In modern society, the advertising value of bus shelters is incalculable, and it is also the mainstream advertising media. Many advertisers are looking at the bus shelters with high outdoor advertising rates. Therefore, designers should fully consider this point when designing the bus shelter, so that the utilization rate of the bus shelter is the highest.
YEROO is a bus shelter manufacturer with low-cost and high-quality bus shelter, various customized shelters and bus stop shelters to meet passenger waiting and smoking needs. Attractive, affordable, free design and sturdy, bus shelter with advertising light box can be outfitted with your choice of options to keep travelers comfortable and secure.
The bus shelter provides a place for rest for passengers. It is the infrastructure of urban public transportation, highlights the economic and cultural level of a city. What are the most basic functions of such an infrastructure?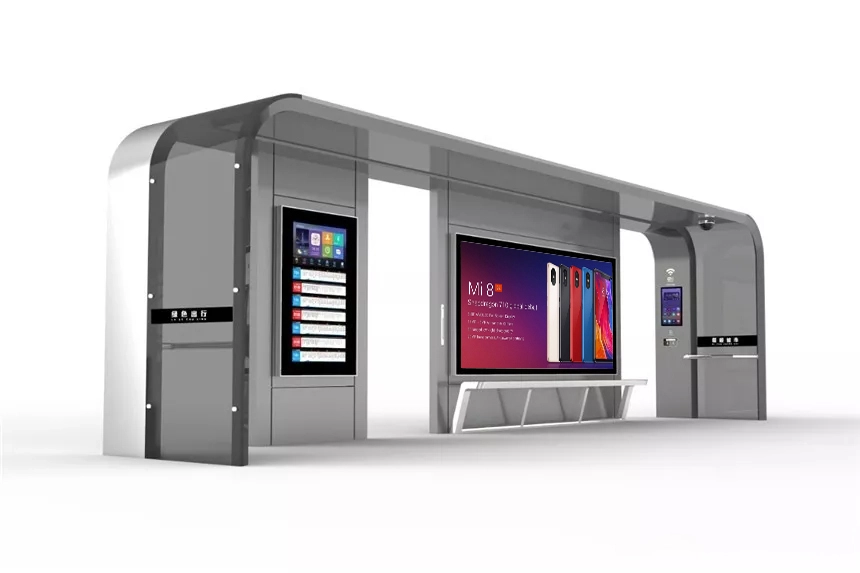 Yeroogroup.com believes that the bus shelter must have at least four basic functional facilities:
1. Bus Information Inquiry
The bus shelter is the place where people wait for the bus. In order to facilitate people to know the bus route and the arrival information in time, the bus shelter should have an inquiry system. By querying the system, people can understand the bus arrival information and transfer information.
2. Lighting Facilities
Lighting systems should be installed in the pavilion, which requires reasonable lighting design to allow people to see the driving routes and trains at night. This will not only provide lighting services for the late returnees, but also make the night city look more attractive.
3. Classified Trash Can
The bus shelter is a place where people gather. With the flow of people and various domestic garbage, Adhaiwell.com recommends that the shelter be equipped with a sorting bin at the beginning to facilitate the passengers in the shelter to throw the peel and various domestic garbage.
4. Advertising Display
The bus shelters are spread over the city center roads, covering the city's most core business districts. The flow of people and traffic is dense, and the coverage rate is high. The public waiting for the car is mostly around 3~5 minutes. During the period, there is plenty of time to browse advertisements and enhance the penetration of advertisements. The mode of transmission of bus shelters is to enter the public's field of vision directly, the propaganda method is the most proactive, close-range, face-to-face, to transmit advertising information to the readers. So the bus shelter advertising will be one of the best ways to display advertisement.
The above is the essential function of the bus shelter summarized by Yeroogroup.com. Of course, according to the needs of passengers waiting for the bus, you can also add seats, free WIFI, shared charging, real-time monitoring, vending machines, etc. to the bus shelter, highlighting the charm of the city and making the city image more "higher".